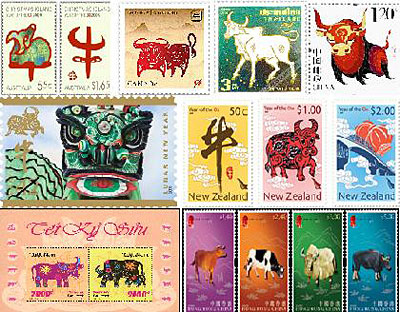 Stamp Philatelic - Chinese Zodiac Stamp
The Chinese lunar calendar has a sixty year cycle. According to the Chinese horoscope, The 60-year cycle consists of two separate cycles combining with each other. The first is the cycle of ten heavenly stems, namely the Five Elements which make up all matter (in order Wood, Fire, Earth, Metal, and Water) in their ip Yin and Yang forms. The second is the cycle of the twelve Zodiac animal signs or Earthly Branches . They are in order as follows: the rat, ox, tiger, rabbit, dragon, snake, horse, sheep, monkey, rooster, dog, and pig. The current cycle began in the year 1984.
Chinese ancestors believed that a person's destiny can be determined by the position of the major planets at the person's birth along with the positions of the Sun, Moon and comets and the person's time of birth and Zodiac Sign. So the Zodiac Sign animal is believed to be the main factor of each person.


Stamp Philatelic - Chinese Zodiac Stamp
Read more...